CW2 JONAH DAVID MCCLELLAN
November 2, 1983 ~ September 21, 2010
Born November 2nd, 1983, in Duluth, MN, died Tues., Sept. 21st, 2010, in a helicopter crash serving his country in Afghanistan. He was 26 years old, and a life-long member of the Old Apostolic Lutheran Church. Jonah and Nina's  last residence was at Fort Campbell, KY, where he was stationed as a  Chief Warrant Officer 2 of Bravo Company, 5th Battalion, 101st  Aviation Brigade, Aviation Regiment. He served for seven years. Jonah is survived by his wife of six years, Nina; and three children, Ayden, 4, Ayla, 2, and an infant son, Renn, 3 months. He was preceded in death by his infant son, Callen. The family also wants to thank from the heart all our friends, our family, our community, our nation, and the United States Army for all your warm and loving caretaking, cards, gifts, and heart-felt words of comfort and condolences.
Jonah so loved his family and all his Christian friends.
He loved to fly and he especially felt honored to serve his country.
But we know he gave that honor to God and whenever possible,
he wanted to talk of his Christianity with his traveling companions
and whenever he was able, with his fellow soldiers.
Oh our dear beloved Jonah! You were a hero to so many people.
You've touched the lives of all you came in contact with.
You were so unselfish and so strong in your faith.
You let your light shine wherever you went,
and were such a good example to those you knew.
Our merciful Father loved you so much that he has taken you home
at a young age and now you are our anchor in heaven.
Our hope now is that it won€™t be so long before we can
greet you and hug you in the heaven of glory.
Our dear, dear husband, father, son, brother, uncle, grandson,
nephew and friend - of all that are gathered, we know that you are
the happiest now. And we want to have the strength to rejoice
that you have won that crown that we are all striving for.
And we also hope that if anyone here or abroad that
doesn't have that full assurance of their soul's destination -
that they could find this saving faith which you held so precious.
And we want to thank God for allowing us to have Jonah
with us for the time that He did.
Goodbye, dear Jonah - until we meet again
Published in The Columbian
<![if !vml]>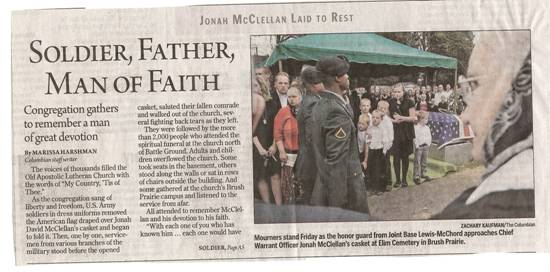 <![endif]> 
<![if !vml]>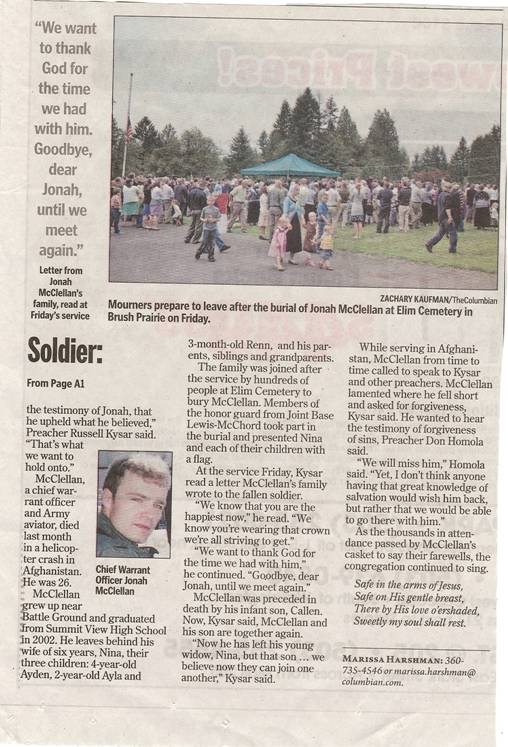 <![endif]>
<![if !vml]>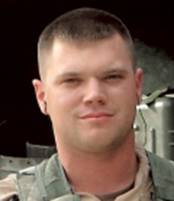 <![endif]>SSG Joshua D. Powell
November 10, 1984 - September 21, 2010
PLEASANT PLAINS - SSG Joshua D. Powell, 25, of Pleasant Plains, IL., passed away Tuesday September 21, 2010 due to injuries sustained in a helicopter accident in Zabul Province, Afghanistan, while serving with the 101st Combat Aviation Brigade, 101st Airborne Division at Fort Campbell, KY.
He was born in Springfield, November 10, 1984 the son of David and Susan Brooks Powell. He was preceded in death by his maternal grandfather, James M. Brooks, an uncle; Michael Powell and his great grandparents.
Josh was a 2003 graduate of Pleasant Plains High School where he lettered all four years in varsity soccer. He was a member of the Western
Oaks Baptist Church. Josh was an avid hunter, and enjoyed collecting guns. He was a motorcyclist and recently became a St. Louis Cardinal fan.
Josh is survived by his parents; Susan (husband Doug) Needham of Pleasant Plains, and David (wife Theresa) Powell of Springfield, two
brothers; Travis (wife Brea) Powell of New Berlin, IL and Zachary Powell of Springfield, his maternal grandmother; Judy Brooks of Springfield, his paternal grandparents; John and Doris Powell of Pleasant Plains, his great
grandmother; Iva Hinrichs of Arizona, his aunt; Becky Powell of Springfield, his uncle; Jeff Brooks, his girlfriend, Rebecca Elshoff of Chatham, and several cousins.
In lieu of flowers, memorial gifts may be given in Josh's memory to the Gold Star Mothers 4401 A, Connecticut Ave. Washington, D.C. 20008 or the
Wounded Warrior Project Fund P.O. Box 758516 Topeka, KS. 66675-8516
Please visit the online "Life Remembered Story" at bischfuneralhomewest.com/ where tributes and condolences may be left for the family.
Published in The State Journal-Register on September 26, 2010
Sgt Marvin Calhoun Jr.
Marvin is at rest back home in Elkhart, IN and here's the pictures
<![if !vml]>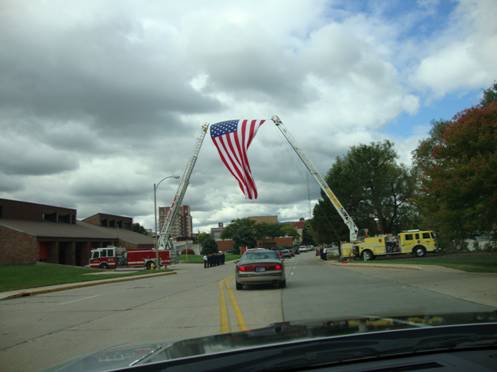 <![endif]>
<![if !vml]>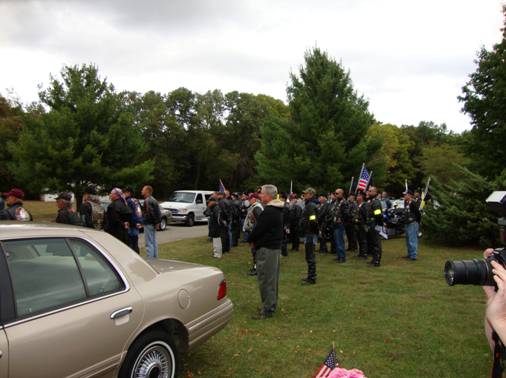 <![endif]>
<![if !vml]>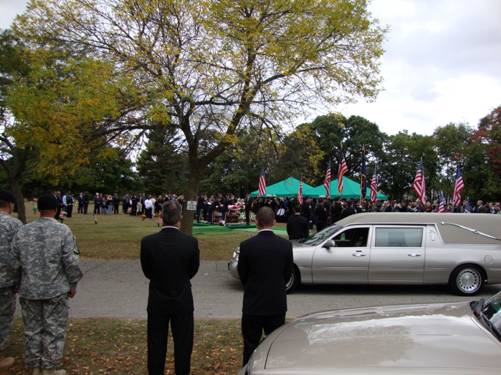 <![endif]>